Online Divorce
in Alabama
Simple process to get divorce papers online
Affordable pricing plans with no hidden fees
Unlimited changes to forms and free revisions
Divorce papers ready to download in two business days
Step-by-step filing instructions
Award-winning tech support for all customers
Divorce in Alabama is quick and easy
Divorce Online in Alabama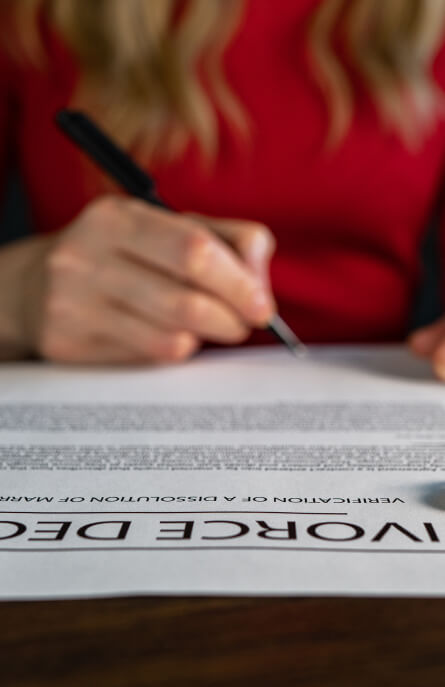 In the case of an uncontested divorce online in Alabama, the most affordable and convenient option for spouses is to turn to Alabama Online Divorce for help. Why? First, you won't have to deal with the paperwork yourself. Instead, the service will help you select and complete all the necessary divorce forms based on your answers to a special questionnaire. Second, it's fast! Within two business days, the required documents will be ready for download. And third, it's a lot cheaper than Alabama's most budget-friendly flat-rate attorney for uncontested cases.
Here are the main advantages of Alabama Online Divorce
Independence.

Spouses do not depend on a lawyer's schedule and location.

Ease of access.

The couple can access the platform from any device.

Convenience.

Spouses work with the forms from anywhere and anytime and make adjustments to the documents at any stage.

Simple litigation.

Alabama Online Divorce offers detailed written instructions on how to file forms in every state, including Alabama.

Quick process.

Ready-made forms are available for download within two business days.

Low-cost price.

The service is many times cheaper than the average divorce lawyer in Alabama.
How to qualify for an online divorce?
All couples who have an uncontested divorce can fill out their forms without an expensive lawyer using an online divorce service.
It does not matter how long the spouses have been married or whether they have children. The main thing is to file for dissolution with mutual consent and come to an agreement on the key points of divorce, such as division of property, child support, alimony, etc.
Compare Your Options for Filing for Divorce in Alabama
Divorce With a Lawyer
Traditional litigation, where separate lawyers protect the interests of each party.
The couple depends on the lawyer's schedule
Often the most extended option
An aggressive court environment negatively affects kids
Sometimes a lawyer provokes new conflicts
Divorce lawyers typically charge between $200 and $300 per hour
Alabama Divorce Online
Fast, cheap, and straightforward option to file for divorce online in Alabama yourself.
Clear and user-friendly platform
Forms are generated automatically
Work with documents from any convenient place
Ideal for a peaceful divorce without legal battles
Low cost: much cheaper than a lawyer in Alabama
DIY divorce
The most cut-price alternative, but it does not guarantee efficiency.
May lead to an unfair outcome
Often delayed due to incorrectly filled-out forms
Spouses may receive less than expected
Ignorance of the laws affects the completion of the documents
This may lead to additional financial expenses
Here's how our process works.
Looks complicated?
Get your hassle-free divorce
Provide your case details
2
File for Divorce Online in Alabama Without a Lawyer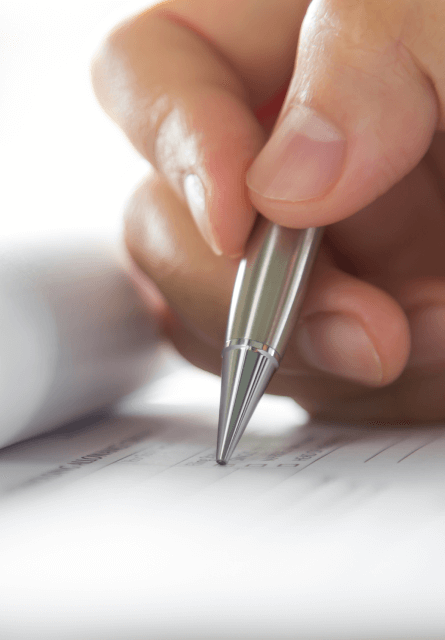 Filing Requirements for Online Divorce in Alabama
In Alabama, divorces are handled by the circuit courts, which have the exclusive jurisdiction to decide divorce cases. This is because the circuit courts are Alabama's trial courts, and they are assigned to hear family law matters.
To file for divorce without involving an expensive attorney, spouses can download the necessary forms and fill them out. Also, if a couple needs help with the papers, they can contact Alabama Online Divorce.
Spouses can file the required paperwork online through the e-filing system instead of going to court in person. Also, ex-partners can use the services of Alabama Online Divorce for filing documents with the court.
Moreover, the spouses should meet residency requirements and clearly state the legal grounds for their divorce.
In Alabama, spouses can file for a no-fault divorce or a fault-based divorce. Depending on which type of couple chooses, the grounds for divorce will differ.
No-Fault Grounds for Divorce
In Alabama, a no-fault divorce is the "irretrievable breakdown of a marriage" or "incompatibility." The first means that the marriage broke up irrevocably, and the second means that the spouses no longer get along. Both no-fault grounds tell the court that at least one of the spouses wants to end the marriage, which is usually enough for the judge to decide on a divorce.
Fault-Based Grounds for Divorce
If one of the spouses blames the other for the dissolution of the marriage, they can use the following fault-based grounds:
One of the spouses was physically and incurably incapacitated at the time of marriage;
Adultery;
Habitual drunkenness;
Impotence;
Refusal of marriage for at least 12 months;
A mental illness that resulted in one of the spouses being institutionalized for at least 5 consecutive years, and the spouse was terminally insane at the time the divorce was filed;
Imprisonment for at least 2 years, with a sentence of at least 7 years in prison;
A crime against nature, man or animal, before or after marriage;
The wife was pregnant during the marriage and did not tell her husband about it.
Do-It-Yourself Divorce in Alabama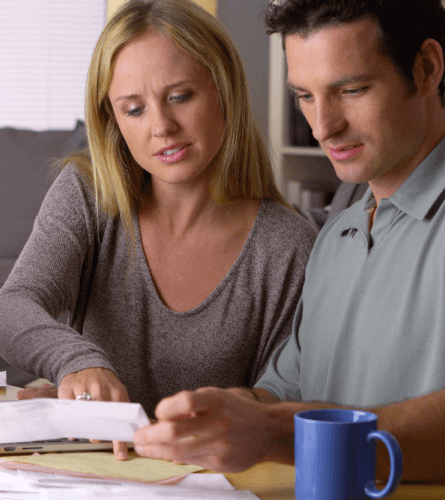 To successfully complete a DIY divorce in Alabama, the couple needs to follow the steps described below.
Step 1. Meet the residency requirements.
A couple can file for divorce in Alabama if both spouses reside in Alabama. If the defendant lives out of state, the plaintiff must have lived in the state for at least six months before filing for divorce.
Step 2. Choose legal grounds for divorce.
Alabama is a no-fault divorce state. However, the state also allows divorces on fault-based grounds, such as adultery, habitual drunkenness, refusal of marriage for at least 12 months, a mental illness, impotence, imprisonment, or the wife's pregnancy at the time of the wedding about which she didn't tell her husband, etc.
Step 3. Complete required divorce forms.
If the spouses want to file for a divorce without a divorce lawyer, they can download the papers from the Alabama Courts E-Forms site and fill them out using the instructions available online. They can also obtain the forms from the clerk of the district court where they will apply.
Step 4. Serve the spouse.
The plaintiff can serve the forms to the defendant in the following ways:
By an adult acquaintance (not a relative);
By law enforcement officer;
By private process server;
By certified mail.
Step 5. Finalize the divorce.
For both uncontested and contested divorces, the court can only make a final divorce decision 30 days after the spouses file the original divorce papers.
All Required Alabama State Forms.
Alabama-Specific Court Filing Instructions.
Unlimited Revisions for as long as your account is active.
Getting a Divorce With Children in Alabama
If a couple divorces with minor children in common, they must agree on all matters relating to child custody and child support.
There are two types of child custody in Alabama — physical custody and legal custody.
Physical custody is a decision about who the child will live with, while legal custody determines which parent has the right to make decisions in the child's life. If a court grants a parent sole legal custody, only that parent has the right to make decisions. In joint legal custody, both parents have a say in decisions about raising the kids.
Before determining custody, the court considers the child's best interests based on the following:
Agreement (or lack thereof) between parents;
Age and gender of the child;
The child's emotional, material and educational needs and the ability of each parent to meet them;
Parents' home environment;
Parents' age, stability, mental and physical health;
The nature of the child's relationship with the parent;
The nature of the child's relationship with any siblings, etc.
Both parents have an ongoing legal obligation to support their children financially, whether married or not. Alabama, like most states, has specific rules for determining child support.
So, the monthly child support payment, based on the Alabama child support rules, depends on the following factors:
Non-custodial and custodial parent's monthly income;
The amount of monthly alimony paid for children from a previous marriage by non-custodial and custodial parents;
The amount of monthly alimony paid to the spouse from a previous marriage by non-custodial and custodial parent;
The monthly cost of kindergarten paid by both of them;
The monthly cost of family group health insurance paid by both of them.
Residency Requirements in AL
For an Alabama court to have jurisdiction, the spouses must meet the state's residency requirements.
If both spouses are residents of Alabama, a divorce can be filed at any time.
If the defendant is a resident of Alabama, but the filing spouse lives in another state, a divorce can be filed at any time.
If the filing spouse is a resident of Alabama, but the other spouse is not, the spouse filing for divorce must have been a resident of the state for a minimum of six months before filing for di­vorce.
How Long Does It Take to Get a Divorce in Alabama?
The waiting period for a divorce in Alabama is 30 days. If all the documents are in order, the spouses will have to wait at least 30 days after filing for an uncontested divorce before the judge will sign the final divorce decree. However, it usually takes a little longer (about two months) before the judge reviews all the documents and signs the decision.
Also, even after the couple is officially divorced, Alabama law prohibits them from marrying anyone else for 60 days after the divorce is issued.
Customer Testimonials
I have been struggling with getting a divorce & did i need lawyers or not but turns out i didnt. I got all my answers & help answered & they were very helpful. Thank you Alabama Online Divorce .com
I was stressed and uncertain what steps to take. I also don't have the money to spend on a lawyer so they helped out so much!
I was so lost trying to figure out what forms I needed and how to fill them out, it was a relief to have Online Divorce take care of them for me!
I never have the same schedule as my soon to be ex and this was so convenient. I'm so glad this option is out there!
I have been searching for several web sites to have my divorce done and this one was the most easiest, painless way to do it. I definitely recommend.
But with the help of Alabama online divorce make it a lot easy and saves my time of coming back and forth .
I used divorce only and it is super easy to use. I am so glad I found this, it's not to expensive and it gets the job done!
I will encourage anyone to go through this process.It has been hassle free and you can doit in the company of your own home.
The customer service was very helpful. It allowed me to make the best decisions for my situation
Frequently Asked Questions
How to file for an uncontested divorce in Alabama?
Spouses can file online through the Alabama Courts E-Forms site, send papers by mail to the court, come to court in person and file divorce documents, or use the additional services of Alabama Online Divorce for filing documents with the court.
How much does a divorce cost in Alabama?
Filing fees in Alabama vary by county. For example, in Baldwin County, it would be $227, and in Madison County $324. The average cost for an uncontested divorce in AL is $1000 ($50 administrative fee included).
How to get a free divorce in Alabama?
If the couple cannot pay the filing fee, they can get a fee waiver by filling out the Affidavit of Substantial Hardship and Order (C-10) form and proving to the court that they are in financial hardship.
How to get divorce papers in Alabama?
Couples can find all the necessary forms on the Alabama Courts E-Forms site or can request the required documents from the court clerk of the district where they live. They can also use Alabama Online Divorce to generate ready-to-sign forms within two business days.
Where do I go to file for an uncontested divorce in Alabama?
Once the required divorce papers are completed, they must be filed at the clerk's office in the appropriate county or online using the Alabama Courts E-Forms site.
What are the grounds for divorce in Alabama?
Alabama has both fault and no-fault grounds for divorce. Grounds without fault include the "irretrievable breakdown" or "incompatibility," while fault-based grounds include adultery, impotence, mental illness, imprisonment, drunkenness, etc.
How is property divided in an Alabama Divorce?
Alabama law stipulates that each spouse generally retains their own separate property. Marital property includes any assets that either spouse has earned, created, bought, or otherwise received during the marriage.